BIG ANNOUNCEMENT – I'm closing Corporate Sales Training to focus solely on my new coaching platform
Over the past few years, I've trained sales teams from many of the world's leading tech companies.
The experience has been amazing for me and impactful for my clients, but I've decided to close this business unit to focus exclusively on serving my coaching clients and building out the world's best coaching platform.
Here's why:
I'm a massive believer in Addition by Subtraction in your personal life and at work. Because I was running so many Corporate training workshops, I had less time to focus on building and optimizing my coaching platform. Saying YES to one thing ALWAYS means saying no to something else.
My true passion is helping transform the lives of individuals, rather than transforming sales organizations.
I've seen the impact firsthand which my coaching has had on the lives of my clients, and this is truly the most fulfilling, rewarding work which I can do in my life.
So I've decided to focus exclusively on coaching and spending my remaining time doing what lights me up most.
This decision will frees up at least 15 hours per week, which will be used to enhance, grow, and sell the coaching platform. I will also have capacity to take on more private coaching clients with this additional time freed up, starting in December.
When you do what you love, the money will come naturally because you are working with passion, conviction, and dedication that serves your existing clients at the highest level and attracts new clients in the future.
Saying no to immediate revenue now means saying yes to greater revenue later. I have trust and faith that the income I'm losing from Corporate clients will be replaced by private coaching clients in the future because I'm doing what I love and getting incredible client results which will drive ongoing, sustainable growth.
In today's video, I share how I'm applying Addition by Subtraction in my role as a Solopreneur.
I also share how you can apply Addition by Subtraction as a Sales Professional, which is key to focusing on larger, strategic deals.
If you are interested in joining my new Coaching Platform Untap Your Sales Potential, I will be taking new clients starting in December and offering this only to people on the waitlist.
Here's a link to sign up for the waitlist so you can get notified when spots open up: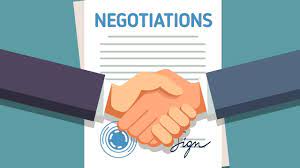 What's the #1 key to negotiating which very few people talk about? Knowing your worth and believing it!…