Fireside Chat with Marcus Chan
In this month's Fireside Chat, I interviewed one of my favorite people on this planet: Marcus Chan.
I first met Marcus over 3 years ago before I had started my coaching business.
I was looking for a mentor, and he graciously offered to help me even though I was entering the same space.
He openly shared how he got into the business and his playbook across sales, marketing, customer service, and operations.
Why would he do this, you may ask?
Because Marcus is an abundant, generous person who believes that a rising tide lifts all boats.
This is one of his many traits which has made him wildly successful across his career.
The other trait that stands out is his unwavering commitment to personal development, which enabled him to overcome so many obstacles throughout his life and career, including overcoming a speech impediment.
Last year I had the privilege of writing the forward to his bestselling book "Six-figure Sales Secrets," which has improved the lives and results of thousands of salespeople.
In this Fireside Chat, Marcus gets super vulnerable and shares some of his past struggles and how he was able to overcome adversity starting at such a young age.
He also shares so many gold nuggets related to mindset and habits which include:
1. His morning routine
2. How to stay focused
3. Time Management
4. Personal Development
5. Consistent work ethic
My clients all RAVED about this discussion, and now I'm thrilled to share it with the broader public.
This is not one you want to miss.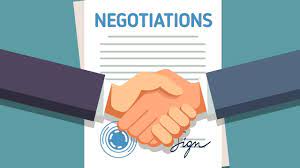 What's the #1 key to negotiating which very few people talk about? Knowing your worth and believing it!…