Going "ALL IN" on your Sales Career
Why is it that some sales professionals CRUSH IT year after year, while others struggle to find their way? 🤷‍♂️
The answer is simpler than you think.
They are ALL IN! 🙌
So what exactly going "all in" mean? 🤔
1️⃣ It means doing the things you don't feel like doing, especially when you don't feel like doing it.
Sales is not always fun. Most of us love meeting with clients, but this is only part of the job.
We face rejection daily. We chase down people who may be avoiding us. We research. We create long Powerpoint decks and complex spreadsheets. We update the CRM. We take mandated trainings. And we do a LOT of admin work.
In order to thrive, you must develop the muscle of doing the things you don't feel like doing. Period.
2️⃣ It means giving 💯 effort each and every day
If we are frustrated at the end of the day, it's usually because we didn't give it our all that day and we expect better from ourselves.
3️⃣ It means mentally COMMITTING
Mental commitment means accepting where we are, not thinking about what else we could or should be doing, and giving everything we can to our current role or challenge at hand.
Once we accept that we must conquer TODAY to achieve a better TOMORROW, we are free to focus on whatever the challenge at hand is.
Our biggest enemy to success often lies between our ears, so if you find yourself suffering from "stinking thinking" it's a sign that you must STOP THINKING and START DOING!
The grass is NOT greener on the other side. The grass is greener where you WATER it.
Because wherever YOU go, there YOU are, and we cannot run away from ourselves.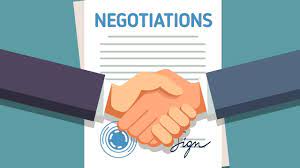 What's the #1 key to negotiating which very few people talk about? Knowing your worth and believing it!…