Here's the #1 reason why Enterprise Customers choose to "do nothing"
When selling Enterprise Software, our primary competition is not other vendors, but status quo.
Regardless of how impactful your product or service may be, many companies will choose not to do anything at all.
There are several reasons why this may occur including the following:
1. They feel like their current plan is working fine
2. They don't feel "ready" to make a major change
3. They aren't experiencing enough pain to warrant a change
4. There is no compelling event driving the NEED to change
5. There's no Senior Executive driving this
While these are all valid, legitimate reasons to stay put, the #1 reason why people decide not to move forward is even simpler:
THEY DON'T FEEL THEY HAVE THE TIME FOR A NEW, STRATEGIC PROJECT BECAUSE THEY ARE EXTREMELY BUSY "RUNNING THE DAY TO DAY BUSINESS!"
Above all else, this is what prevents many Enterprise Executives from taking on strategic initiatives that require organizational change.
Today I break down exactly what you can do to help large Enterprise customers say YES to your solution and NO to status quo.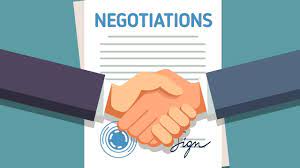 What's the #1 key to negotiating which very few people talk about? Knowing your worth and believing it!…