HOW TO GO ABOVE OR AROUND YOUR CHAMPION WHEN DEALS GET STALLED
Key takeaways of today's video:
1. Deals move faster when you are with power from the onset, so always try to start at the top, then yo-yo down to the middle or bottom before coming back up.
2. If you are already are working with a champion, ask to meet with the decision maker as part of the discovery to get their input early on
3. If you cant get to power during Discovery, ALWAYS request that the decision maker attend the Proposal Review when numbers are presented.
4. If you've already presented your proposal without the Decision Maker present and your deal is stalled, ask your champion to set up a meeting to go over the proposal and address any questions or concerns directly what the Decision Maker.
5. If your Champion is unsuccessful in bringing in the Decision Maker during steps 2-4, they are probably not your champion and at this point you need to go directly to the decision maker yourself to move this forward.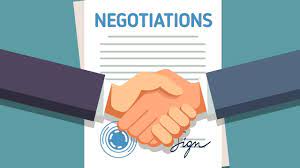 What's the #1 key to negotiating which very few people talk about? Knowing your worth and believing it!…