HOW TO PROSPECT INTO THE C-SUITE
When it comes to prospecting, personalization matters.
If you want to set more appointments with key execs and decision makers, take the time to understand who they are and what they care about BEFORE reaching out.
Here's the strategy I use to crack into the C-suite:
RESEARCH FIRST
1. Visit your target executives LinkedIn profile and read their job responsibilities and goals.
2. Look at what they've posted or commented on recently.
3. Google them to see if they've appeared in any interviews, news articles, or podcasts. Then read or listen to the interviews.
4. Take notes on what they care about
PERSONALIZE YOUR MESSAGE
1. Send a DM on LinkedIn with a sincere compliment on their work, citing your specific research with a link to the post or article it came from.
2. Tell them how your company can further help them achieve the goal or initiative that they are focused on. Be sure to establish a strong, specific link to your product or service
3. Ask for an appointment and make it easy for them to book it by using a calendar widget like Salesforce Inbox or Calendly
4. Follow up with an email AND phone call. Keep following up, as it takes 7 touch points on average to get a response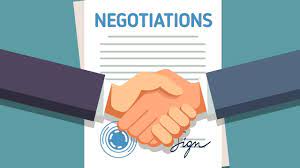 What's the #1 key to negotiating which very few people talk about? Knowing your worth and believing it!…