How to Sell to Senior Executives
One thing that Elite sellers have in common is they work with and sell directly to Senior Executives.
Every 7 or 8 figure deal I've done in my career had high engagement and sponsorship from the C-suite.
When you get Senior Executives involved early, deals are larger and the sales cycles are compressed.
The challenge many reps face is that they struggle to book meetings with Senior Executives, and often face imposter syndrome when they do meet.
In today's training video, I teach how to book meetings with Senior Executives and have impactful conversations when you do meet.
Here are the top 4 takeaways:
1. Mindset – you must see yourself as equal to Executives. When you put somebody on a pedestal, you can't have an eye to eye conversation.
Good news is that you don't need to be an expert on their entire business to become a trusted advisor. You just need to be an expert on the problems you can solve for their business.
2. Setting meetings – you must STAND OUT to get in. Execs have high demands on their time, and they won't agree to meet unless they see high value in doing so.
That's why it's critical to research them and their company beforehand and come up with a relevant, personalized Point of View (POV) on how/where you can possibly help based on your research.
Follow up is also critical across multiple channels. Most reps simply give up after 1-3 outreaches, when in reality it takes 8-12 touch points to book a meeting. And NEVER put a Senior Executive on an automated sequence.
3. Impactful Conversations – never use a slide deck in a first meeting. Ditch the pitch and have an authentic conversation focused on understanding their desired goals and challenges, and determining whether or not you can help them. Sharing your POV first is an effective way to show that you've done your homework, and naturally leads to discovery. Seek to understand, actively listen, and dig deep. Only sell when you KNOW you can help.
4. Multi-threading – Senior Executives don't have time to get in the weeds or manage the entire deal cycle. That's why they have teams to help. At the end of the first meeting, it's critical that you outline next steps to them in the discovery process and find out who on their team can work with you to get all the details you need to build a custom demo and compelling business case. Then surface your findings back up to them. This is what I refer to as "Yo-yo selling."
Selling to Senior Executives is a major focus on my Untap Your Sales Potential Program. I teach how to land meetings with Senior Executives in the "Prospecting to Power module", how to nail those meetings in the "Impactful Executive Conversations" module, and how to manage complex deal cycles and multi-thread in the "Closing the Complex Sale" module.
Doors are now officially open to the program, and you can sign up using the link below. Spots are available on a first come, first serve basis.
https://untapyoursalespotential.com
You can check out the full curriculum here: https://untapyoursalespotential.com/curriculum
See you on the inside!
-Ian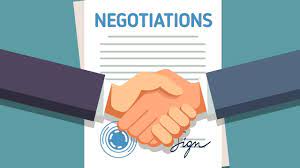 What's the #1 key to negotiating which very few people talk about? Knowing your worth and believing it!…