LEARN TO DELEGATE LOW-VALUE ACTIVITIES
The only way to say YES to RGA's (Revenue Generating Activities) is to say NO to the daily activities and tasks which pull you away from them.
Today I share the importance of DELEGATING so you can focus on what will move the needle on your business.
The most important tasks to delegate are:
1. Smaller deals should be delegated to Junior Rep, ECS, or Inside Sales if possible
2. Customer Support issues should be delegated to Customer Success organization
3. Prospecting should be delegated to BDR's except when calling into C-suite or Senior Executives
4. VIP Customer Event planning should be delegating to Marketing, and nominations and follow up for these events should be delegated to BDRs
5. Appointment setting should be automated using calendar automation tools like Salesforce Inbox or Calendly to make it easy to schedule, book, and follow up on appointments.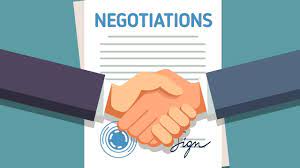 What's the #1 key to negotiating which very few people talk about? Knowing your worth and believing it!…