Pitch your discovery, not your product
Most sales are made during discovery, NOT at the closing stage of a sales cycle.
So rather than pitching your product or scheduling a demo early on, pitch your discovery process first.
When a prospect agrees to let you into their world and show you how they are doing things today, they expect that will show them an even better way.
In today's video I share how to pitch a discovery process successfully to get prospects to open up their doors to you.
The key components of a discovery process include:
1. From start to finish, how do they do it today?
2. What systems and processes are used?
3. Who are the people involved?
4. What are the exact steps from start to finish?
5. How much time does it take?
6. What the top challenges of doing it this way?
7. What's the impact of those challenges?
Most importantly, if you are positioning discovery to a Senior Executive, get them to introduce you to somebody on their team who can get you everything needed for discovery.
Once discovery is complete, come back to them and show them a better way and the impact changing will have on their business.
If you can't improve their situation, walk away.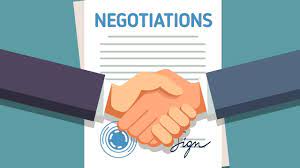 What's the #1 key to negotiating which very few people talk about? Knowing your worth and believing it!…