Selling through a Champion
How do you know if your "champion" is really a champion with the power and influence needed to successfully sell within their company?
In the world of Enterprise Sales, most of us strive to sell directly to Senior Executives with power as this compresses the sales cycle.
However, it's often difficult to get access to power in large companies, so we must sell through a champion with power.
So how do you know if your champion has power?
The main indicator is they know how to get deals done within their company and have spearheaded deals before.
Here are some red flags that you may not be working with a champion with power:
They cannot explain the approval or funding process within their company
2. They aren't able to get you in front of other key stakeholders you need to meet with
3. They go dark and do not return your calls or emails.
4. They aren't going to bat or selling on your behalf
True champions are those who are invested in getting the deal done, want to build consensus within their company so they look good, and will set you up for success when selling.
You know you are working with a true champion when:
They clearly understand how to get a deal done and what key stakeholders need to be involved for approval
2. They have the power and influence to get you in front of those stakeholders, and will coach you to beforehand to ensure success
3. They communicate with you frequently before, during, and after key meetings. They pick up your calls and answer your texts
4. They are willing to put their neck on the line by vouching for your company and the deal
In today's video I break down how to determine if you're working with true champion, and what to do If you're not.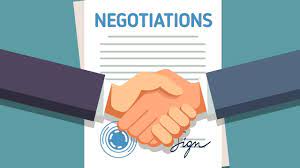 What's the #1 key to negotiating which very few people talk about? Knowing your worth and believing it!…