Are you a sales professional worried about losing your job due to the tech layoffs? If so, today's training video is for you.
During my coaching platform launch, I had many people reach out expressing fears about losing their jobs and not being able to afford coaching.
Given these concerns, I decided to make a video covering the following areas:
1. Why are so many layoffs happening in tech right now. What's going on?
2. Which sales reps are getting impacted by these layoffs?
3. What can you do about it
Here are the 3 things I tell everybody who is afraid of the layoffs:
1. Ignore the noise
Negative news, content, and people are contagious. Same goes for positive.
I don't watch the news and have deleted the news app from my phone. I've found that when I do, I can't perform my best or serve my clients at the highest level because I'm stressed, anxious, and worried. It's also a waste of time and a productivity killer.
Instead, I surround myself with positive people who are doing all they can to control their destiny, rather than worrying or complaining about things outside of their control and often letting it paralyze them from taking action.
Out of sight, out of mind really works.
2. Focus on what you can control. Specifically, focus on hitting your daily inputs (RGA's) rather than obsessing over outcomes (hitting quota) so you don't get desperate and repel your clients with commission breath.
Attach to your daily goals, but detach from outcomes.
Hard work, focused activity, and consistency will pay off over time. Have faith, stay consistent, and trust the process rather than getting paralyzed by fear.
3. Up-level your skills.
It's harder than ever to sell, as customers have tightened their budgets and are closely scrutinizing new purchases.
CFO's and CEO's are asking for detailed justifications for almost all large purchases, and champions are carefully considering which projects they will fight for, and delaying anything they don't feel is a must have.
That's why it's critical that you up-level your selling skills to adapt to a changing marketplace.
If you want sales coaching but you're afraid of losing your job, you probably need my coaching more than ever.
2023 Enrollment is still open, and you can check out all the program levels along with the full curriculum here.
https://www.untapyoursalespotential.com/curriculum
Only 5 private coaching spots left!
Remember that nothing will change unless you do.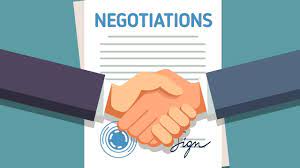 What's the #1 key to negotiating which very few people talk about? Knowing your worth and believing it!…