The Fastest Way to Close Deals in a new role or company
When I started at Salesforce in 2013 as an Enterprise AE, I had no SaaS experience.
Yet I was able to beat quota and finish "Rookie of the Year."
How was this possible?
By following this one simple strategy:
Bring in my Sales Manager to all my deals!
Although I was very good at setting meetings, I lacked experience in running and closing large, complex deals.
So I brought in my Manager and directly learned from him.
From there, I was able to watch him in action and learn firsthand what good looks like.
He helped me craft the story, polish the Executive deck, and brought in other resources to assist including our Head of Product, Platform Team, Business Value team, and a key Executive Sponsor.
The Result: We closed the largest Employee Communities deal that year at a 14 unit hospital, resulting in a 7 figure contract!
You see, you don't have to know how to do EVERYTHING as an Enterprise seller to succeed.
But you DO have to be great at finding deals, then bringing in your resources and leveraging your extended team to execute.
My boss showed me how to do this and led by example.
Bringing in your manager also removes pressure to perform which comes from Sales Managers having poor visibility into your deals.
Anytime you are new to a role or company, there's a steep learning curve.
The fastest path to success is to find people who are smarter or more experienced than you and bring them in to lead the way.
That starts with bringing in your Sales Manager!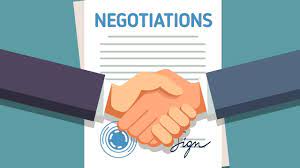 What's the #1 key to negotiating which very few people talk about? Knowing your worth and believing it!…