WHAT DOES HAVING A BABY HAVE IN COMMON WITH ENTERPRISE SALES?
1. Both take time and require patience.
Having a baby takes 9 months, and closing an Enterprise sale can take 6-12 months.
2. Both require practice.
In labor, practice means taking classes for breathing and pain management. In selling, it means doing dry runs.
3. Both require a plan for success.
In the case of labor, it's called a birth plan. In Enterprise sales, it's called a Mutual Close Plan.
4. Both require flexibility when the plan goes awry.
Everybody who's given birth has a story about their labor, and most likely it didn't go as planned. Likewise, to close a large deal there will likely be unexpected obstacles and challenges to deal with.
5. Both require love, attention and nurturing and to stay healthy and continue to grow.
Once the baby is born, they need love, nurturing, and attention to grow and thrive. Likewise, after securing a new customer you will need to stay close to them to ensure success and "seed and grow" your solutions.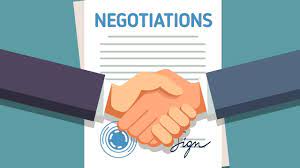 What's the #1 key to negotiating which very few people talk about? Knowing your worth and believing it!…