What is a Sales Mastermind, and how can it help you?
Ask any successful person how they got there, and they'll tell you they didn't do it alone.
Many top executives, athletes, and sales professionals had excellent mentors to show them the way.
I attribute my own success to investing in myself and hiring a coach, but there's one other thing I did which accelerated my success….
I joined a Mastermind!
So what exactly is a Mastermind, and how do you find one?
A Mastermind group is a group of peers who meet regularly to give each other advice and support.
Napoleon Hill first coined the term in his 1937 book Think and Grow Rich.
Andrew Carnegie, Thomas Edison, Henry Ford and Harvey Firestone were all part of Mastermind groups.
A Mastermind is key to success for many reasons:
1. You are the average of the five people you spend the most time with.
When you surround yourself with like-minded people who are committed to growth, it rubs off on you.
2. Seeing others close to you succeed inspires belief that you can do it too.
In a Mastermind, people share what's working for them and provide the playbook they used to achieve their success so you can model after them.
3. In a Mastermind group, you will give and receive advice from your peers.
Teaching others reinforces that you continue to practice what you preach.
4. Honest, open, and transparent communication with peers.
A Mastermind is a "meeting of the minds" – a place where you can speak the truth and receive it in return without judgement.
You can share challenges and struggles that you may not feel comfortable sharing with your boss, so you can get the help you need.
5. Ongoing support and accountability from your peers.
Together you can set goals and your peer group provides accountability to reach them.
In post-COVID era, many of us feel more isolated than ever.
That's why I created my own Sales Mastermind "Untap Your Sales Potential" to provide sales professionals with the community, support, and resources to thrive as group.
Alone we struggle, together we rise!
75% of sales reps who have participated in my Mastermind reported hitting their quota, as opposed to just 39% industry wide.
We meet every week as a group, and have small, regional accountability pods to provide ongoing peer accountability.
We also get together twice/year in person, and bring in the world's best sales thought leaders to provide guidance and inspiration.
I'm thrilled to share video footage from my recent Mastermind live event in Austin Texas, which attendees described as "life-changing" and "transformational."
If you are interested in joining our Mastermind, book a call with my team using the link below to learn how: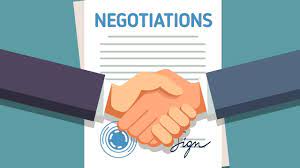 What's the #1 key to negotiating which very few people talk about? Knowing your worth and believing it!…