Win Large Deals by gaining Consensus from multiple stakeholders
I once lost a deal on a contract valued at 47 million dollars.
Yes, you heard that right. …47 MILLION!
The hardest part was that I felt I had done everything right to win it.
I was engaged directly with the company CEO and he was championing the deal internally.
I had negotiated with their legal team at HQ and the terms has all been approved.
We were solving a major problem that the company admitted they had.
So why exactly did we lose the deal?
There was one major "blocker," who happened to be Chairman of the Board at their parent company.
And he happened to be personal friends with Bill Gates, who was Chairman of our biggest competitor at the time.
While I was told this deal would get approved, at the final Board Meeting he requested that the company get another bid from Microsoft and hire an independent consultant to run a competitive evaluation.
This delayed the deal by 6 months, and ultimately led to the customer doing nothing and remaining at status quo.
The moral of the story: you can't be single threaded in a deal and rely only on one person to sell for you.
According the findings in "The Challenger Customer," on average there are 5.4 decision makers that need to approve a sale in Enterprises over 1,000 employees.
It's critical that you understand who these people are, and engage directly with each of them in an effort to gain consensus.
In my case, I had failed to engage with the Chairman of the parent company or connect him with Executives from my company.
I was completely blindsided when he said no.
In todays video, I go over my process for building consensus when selling large, complex deals which require approval from multiple stakeholders.
================================
Step 1: Find a change agent in the company, ideally one who has successfully spearheaded deals before. Make sure you are solving a problem they care about deeply.
Step 2: Work with her to identify the additional stakeholders who need to weigh in or provide final approval
Step 3: Set up interviews with each of these stakeholders to understand their role, challenges, and needs in more detail before developing or building the solution.
Step 4: Develop the solution, demo, and story to address the needs of the collective group. Often this results in a larger deal with more capabilities.
Step 5: Get the entire customer team together to share the vision and demonstrate the solution
Step 6: Work through your change agent (mobilizer) to ensure that each of these folks are on board after the meeting. If necessary, set up individual meetings to address any concerns thereafter.
While this may delay the deal a bit, it will save you heartache and time down the road and ensure that the solution has the proper support to implement quickly after the sale.
Deep into Q4, this is more critical than ever if you want to close out your biggest deals for the year.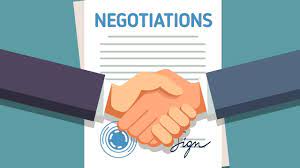 What's the #1 key to negotiating which very few people talk about? Knowing your worth and believing it!…